Vermont Sen. Bernie Sanders (I) said Wednesday during a Senate hearing that he rejects President Donald Trump's pick for deputy White House budget director because of the nominee's religious beliefs.
Trump nominee Russell Vought, who served as vice president of Heritage Action for America for seven years, answered questions Wednesday from the Senate Committee on the Budget, and his religion came up.
Sanders, a self-avowed socialist, condemned Vought's theological stance as nothing more than Islamophobia. Vought "is not someone who is what this country is supposed to be about," the senator said, according to the Washington Post.
But just as paranoid people have real enemies, complaints about religious liberty aren't all specious. Just yesterday we saw an example of a distinguished U.S. senator in a confirmation hearing who came pretty close to embracing the kind of "religious test … as a qualification to any office or public trust" that is explicitly prohibited by Article VI of the U.S. Constitution.
"In my view, the statement made by Mr. Vought is indefensible, it is hateful, it is Islamophobic, and it is an insult to over a billion Muslims throughout the world," Sanders told the committee during his introductory remarks. "This country, since its inception, has struggled, sometimes with great pain, to overcome discrimination of all forms – we must not go backwards."
Vought tried to counter that his opinions on the access of non-Christians to eternal life did not mean he disrespected them in this life: "As a Christian, I believe that all individuals are made in the image of God and are worthy of dignity and respect, regardless of their religious beliefs." But Sanders kept coming back to the "stand condemned" language and concluded that Vought was "really not someone who is what this country is supposed to be about."
A committee vote on Vought's nomination has not yet been scheduled. If approved by the Budget Committee and another Senate panel, Vought's nomination would advance to a full Senate vote.
Sanders to oppose Trump budget pick over writings on Islam
Sen. Bernie Sanders said Wednesday that he'll oppose Donald Trump's pick to be deputy White House budget director over a blog post last year that says Muslims "stand condemned" because they have rejected Jesus Christ.

Bernie Sanders's Religious Test for Christians in Public Office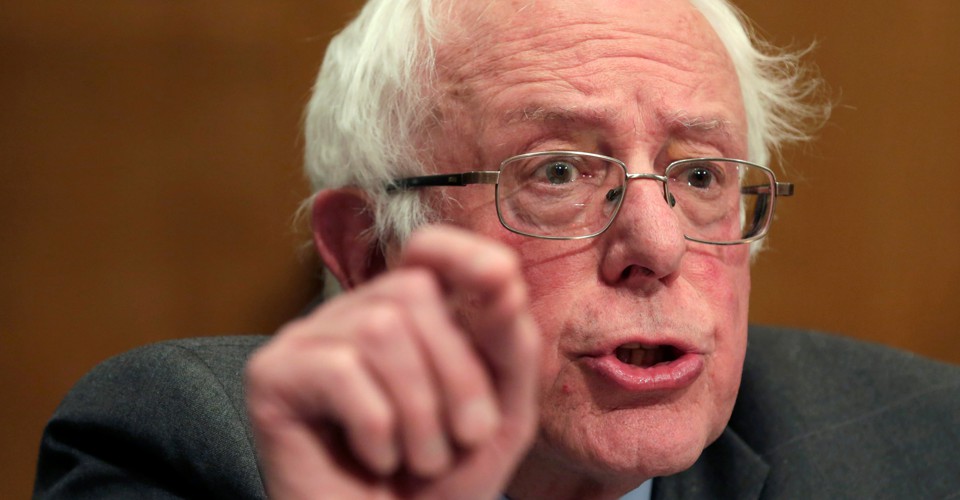 During a contentious confirmation hearing, the Vermont senator questioned the faith of the nominee for deputy director of the Office of Management and Budget.

From www.theatlantic.com

Religion, BernieSanders,